Have you been planning an elaborate list of places-to-go during this Movement Control Order? Are there any museums listed? If there aren't, there should be! Although, there are more than 130 museums to choose from in Malaysia.
Fret not and allow us to highlight some of the less-common museums with admission fees no more than RM12! Now, that should narrow the list down for a bit.
Malaysia Cartoon and Comic House, Kuala Lumpur
Visits to museums are typically known as educational, especially of the local's culture, art and heritage. Here at Malaysia Cartoon and Comic House, the older generation get to revisit familiar faces from their comic collections, while the youngsters get to gather inspiration and witness the evolution of local cartoon, dated as far back as the 1930s, to the present day.
A timeline of cartoon's different roles during different eras can be seen, from delivering a propaganda, to subtly criticising society, and undoubtedly, for providing joy to the readers through humorous storylines. From Datuk Lat's artworks, Gila-Gila magazines' excerpts, to hand-drawn local legends, the museum promises an entertaining educational visit.
Address
Jalan Cenderawasih, Taman Botani Perdana, 50480 Kuala Lumpur.
Telephone no.
+6012-3808552
Operating hours
10.00 a.m. – 5.00 p.m.
(Closed on public holidays)
Admission
Old House Museum, Taiping
Located in Taiping, Perak, Old House Museum is a 2-in-1 treat. It is one of the preserved shophouses in Taiping's Market Square that serves as both museum and antique shop. You don't have to be an antique collector to pay a visit as you will equally enjoy the first-hand experience of Malaysian heritage.
If you are not familiar of the old-school shophouses' interior, do not let the small entrance fool you, as it will lead you into a spacious three-level area filled with priceless antiques (and some, priced for purchase)!
Address
2A, Market Square, 34000 Taiping, Perak.
Telephone no.
+6019-5513058
Operating hours
Weekdays: 10.00 a.m. – 6.00 p.m.
Weekends: 9.30 a.m. – 6.00 p.m.
Admission
Istana Jahar, Kota Bharu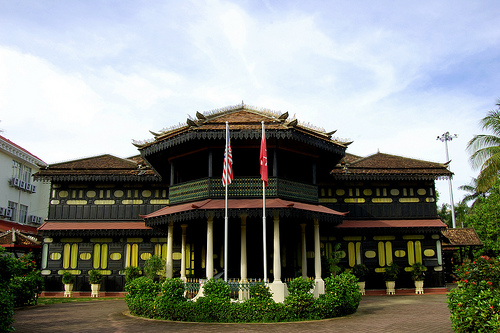 Ever wanted to step inside a palace? Here in Kota Bharu, Kelantan, you can! Istana Jahar, or Jahar Palace, is a former palace that has turned into a Traditional Royal Ceremonies Museum. The original architecture and intricate wood carvings from the 19th century are preserved carefully.
Visitors get to take a peek into the traditional royal life of Kelantan, and learn about the protocols and customs of different ceremonies such as weddings, childbirth, and funerals. Apart from that, royal regalia, traditional handicraft, traditional Malay weapons, and the royal family tree are among the many displays of the museum.
Address
Jalan Sultan, 15000, Kota Bharu, Kelantan.
Telephone no.
+609-7484477
Operating hours
8.30 a.m. – 4.45 p.m.
(Closed on Fridays)
Admission
| | |
| --- | --- |
| Adult | RM4 |
| Children | RM2 |
| MyKad holder | RM2 |
| MyKid holder | RM1 |
Cat Museum, Kuching
Paying homage to the name of the city, the world's largest Cat Museum is located in Kuching, Sarawak. Consisting of four galleries, the museum brings you through an interesting and quirky journey, ranging from the history of Kuching city itself, cat stories from local communities, species of cats, and displays of beloved fictional cats such as Garfield and Hello Kitty.
Address
Bangunan DBKU, Jalan Semariang, Petra Jaya, 93050, Kuching, Sarawak.
Telephone no.
+608-2512200
Operating hours
9.00 a.m. – 5.00 p.m.
(Closed on public holidays)
Admission
Malaysia Prison Museum, Malacca
The next few museums to be introduced are all situated in Malacca Historical City, the reason being lies in the title of the state. Declared as a UNESCO World Heritage Site back in 2008, Malacca houses a great number of museums.
Let's start with the Prison Museum. Guaranteed a humbling and eye-opening experience, visitors will be walk through an actual former prison, where they will get to see the reality of cell life, actual wall scrawlings by former inmates, punishment procedures and how execution takes place. A short and rare journey it may be, yet visitors are sure to leave with mixed feelings.
Address
Jalan Parameswara, Kampung Bandar Hilir, 75000 Melaka.
Telephone no.
+606-2813548
Operating hours
9.00 a.m. – 5.00 p.m.
(Closed on Mondays)
Admission
| | |
| --- | --- |
| Adult | RM6 |
| Children | RM3 |
| MyKad holder | RM3 |
| MyKid holder | RM1 |
Submarine Museum, Malacca
Now, what are the chances of us getting to be inside an actual submarine? Possibly pretty slim, but not entirely impossible, because there is a humongous submarine (then again, it doesn't come in any other size) 'docked' on land permanently, in Malacca.
This single submarine is the museum itself, allowing people to admire its majestic being, and experience the interior! Visitors can take a look inside and feel what it is like to be a submarine crew. Just a heads up, it can get a tad claustrophobic in there.
Address
Dataran 1 Malaysia, Klebang, 75200 Melaka.
Telephone no.
+606-2826745
Operating hours
9.00 a.m. – 5.30 p.m.
Admission
| | |
| --- | --- |
| Adult | RM12 |
| Children | RM6 |
| MyKad holder | RM6 |
| MyKid holder | RM3 |
Museum of Enduring Beauty, Malacca
The last museum on our list is the Beauty Museum, short for Museum of Enduring Beauty. It is located on the 2nd floor of People's Museum Complex in Malacca city. Exactly like what the name suggests, this museum exposes bizarre perceptions of beauty by different communities and cultures around the world.
The varying beauty standards range between tooth filing, neck stretching, and body modification, among many others. They sure give a whole new, literal meaning to "beauty is pain".
Address
Jalan Kota, Bandar Hilir, 75000 Melaka.
Telephone no.
+606-2821303
Operating hours
9.00 a.m. – 5.30 p.m.
Admission
| | |
| --- | --- |
| Adult | RM10 |
| Children | RM5 |
| MyKad holder | RM5 |
| MyKid holder | RM3 |
While adding all the museums above into your to-go list, keep that 'museum-hopping' spirit up by enjoying these virtual local museum tours from the comfort of your home.
Have you been to any of the museums listed? Do you have your own favourite local museum? Share it with us!